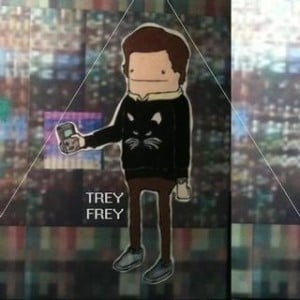 So … do you know what LSDJ is?
Well, to be as simple as possible, it's a Game Boy (remember those?!). Short for Little Sound DJ, LSDJ is a tool some electronica musicians use to create sounds and samples they can combine with other DJ-ish tools to write music.
It's essentially a way to use a Game Boy as a one-stop-shop for music production. It has a sequencer. It features sampled drum kits ranging from the now-legendary TR-808 (you're welcome, says Kanye West) to such neat-looking names as RhythmAce and Drumulator. Visually, the product is as primitive as it gets — picture a Game Boy sound chip, text that reads like an Apple computer from 1985 and a gray screen. The product can help emulate some fairly bleep-y tones, pretty much serving as the go-to tool for DJs who want to incorporate sounds best heard whenever playing the third level of a Super Mario Bros. video game.
And if the Internet is to be believed, it's also the favorite toy of Shepherdstown, W.Va.'s Trey Frey on his latest collection of material, "Trey Frey II," an 11-song instrumental set that is as confusing as it is imaginative and as one-dimensional as the characters best seen on … well … the third level of a Super Mario Bros. video game. Here, it's not that his talents are particularly limited — it's just that those talents are never allowed to expand or veer off into ambitious territory, thus resulting in a bogged-down mess of a release that even the most passionate of IDM fans would have trouble sticking with after too long.
Frey is at his best when he decides to incorporate melody into his world of bleeps and beats. "Recover," the nearly-six-minute track that closes the set, actually settles into the closest thing to a pop groove he gets throughout all 11 songs. As it opens into its de-facto chorus, any listener can instantly mistake it for a Top 40 backing track from one of today's hottest starlets. "Sabretooth" proves intriguing because of how it blossoms from an initial slow tempo into an all-out fit of sound and fury that even breaks into a discernible backbone booming as deep as a Little Sound DJ ever could.
But herein lies the typical problem that most LSDJ artists are forced to confront every now and then: Because of the primitive nature of the tools (and, not to mention, the advancement in technology of what other, more popular DJs use today), the end product always seems to feel as though it's lacking something. It lacks in size. It lacks in depth. And most of all, it lacks in production. Yes — for as neat as it may be to look at the center of a stage and see some guy fiddling with his Game Boy while offering up a wide array of dance-able sounds, it's hard not to consider how thin and one-sided this particular practice will seemingly forever be.
"Critical," the album's opening number, is the most obvious proof of such. As the track builds, and the tones become louder, a slower beat kicks in behind the work Frey is doing up front. But instead of being the kind of warm and heavy setting the rhythm needs in order for the track to work, the electronic drums prove to be so depressingly forgettable that it becomes impossible for the track to stand on its own. "Dreaming (Free)" is the closest the set comes to overcoming that problem as the bass-heavy beat gives the track a much-needed change of pace, though once the harmonies begin to formulate, the song loses its urgency and everything falls into the same type of generic trap most of its brothers and sisters endure as well.
The worst moments come with Frey forces the issue with his speed. "Push On" is almost unlistenable because of its fast pace and its insistence on being a showcase for how quick the artist can formulate sounds. "Brown Eyes," "Statics & Dynamics" and "Neon" all succumb to the same detriments at one point within the walls of their respective structures, too. The constant barrage of bleeps makes for a bundle of tones that prove more unfocused than creative, which is the common fine line that many similar artists cross every now and then while tackling such a niche genre. In fact, making that mistake too often when creating this type of music can be not only detrimental, but it can even prove fatal in some cases.
Why is that? It's simple: Forcing too many tricks into one four-minute electronica tune can turn an otherwise fascinating creation into nothing more than the soundtrack to an afternoon in an arcade. Too many times on "Trey Frey II" does that line get crossed and the artist's songs sound as though they came directly from the third level of … well … a Super Mario Bros. video game. But as even Frey himself should know, even Mario had to land a Warp Whistle by the time the third installment of his video game came along, if only to break the monotony of his mushroom and cloud-filled world. Hopefully, by the time Trey Frey gets around to recording his third installment, he'll realize how important it can be to grow a tail and learn to fly.
* 1 1/2 STARS OUT OF 4 *