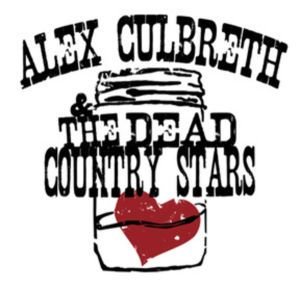 To learn all you really need to know about Alex Culbreth and The Dead Country Stars' debut LP, "Heart in a Mason Jar," take heed of the following two instructions: Listen to track 1. Listen to track 13. That's it — that's all you really have to do. The songs bookend an uncomfortably inconsistent set that sees the singer too often dip his toes into waters he should never even consider navigating. He has talent, yes, but much like other failed local music ventures, he inexplicably can't get away from the notion that he can be (or, well, wants to be) something more than what he is, which in this case, is a country music artist. That's what he's good at. That's what these 13 songs should showcase. That's where he could earn notoriety.
And unfortunately, that's also a genre nowhere near a few of these songs.
Consider the two tracks at hand. The former, a 2:50 ditty that bears the same name as the album, is embarrassing and unnecessary as its play for pop is watered down so much, it nearly sinks the entire ship. In fact, the track is so bad, it almost makes you want to give up on whatever might be behind it, making the option of dismissing the entire collection before even giving it a proper chance a viable one to ponder. The lo-fi production adds shame rather than texture, and the story the singer presents suggests a simple mind with generic taste. It couldn't get worse than this, one may begin thinking, and that thought wouldn't be entirely wrong.
But then we have "By and By," the record-ending song that sees the whole operation prevail with promise and prospect. A true country ballad, complete with fiddle, banjo and heart-stricken verses, it nearly justifies the gruesome missteps that appear elsewhere on this collection. Culbreth's voice works in spades as its dash of soul and forced twang come together to create not only a believable end product but also a sense of professionalism from which "Heart in a Mason Jar" could benefit mightily if it was used more often. The best part? At about the 4:45 mark, all instruments cease and a gang of overlapping vocals takes center stage, providing a moment of sing-along supremacy that is hard to ignore and easy to love.
Only when these guys utilize that same country music feel does the rest of "Heart" work. "Rattle Them Chains" evokes The Doors' "Roadhouse Blues" with its dive bar boogie, and the result is better than pretty good, albeit pretty short as well. "Let's Send the Politicians off to War" and "Turpentine Blues" are two great shots of traditional bluegrass, the medium from which this Fredericksburg, Va., group would benefit greatly if they decided to pursue it more. And "Bang Bang" is a barn party put on wax, a ruckus combination of up-tempo drums and a driving banjo/fiddle combination that makes a line such as "Shots rang/ Bang Bang Bang/ To the rhythm of the song that James Brown sang" pop with enough energy to kick-start a night with no sleep and tons of moonshine.
Still, for whatever reason, Culbreth can't seem to fully embrace his country roots. "Mercy Me" is an oddball attempt at faux-pop, and try as he might, the singer can't quite pull off the whole Jason Mraz, quick-stutter thing, if only for how unmoving the rhythm feels and how forced the pseudo-rapping sounds. And as far as adult contemporary-inspired pop ballads with the word "Nashville" in the title go, "I'm Going to Nashville" is just lame enough to be passed over by soft rock radio stalwart Delilah presumably for something more earnest, like, say, a B-side from Edwin McCain (remember him?!). Cheesy pop is fine when it's done well; here, however, it is not.
And that's why "Heart in a Mason Jar" is so frustrating — it almost suffers more for how good it suggests it could be. The best moment Alex Culbreth has ever had on a record came when he went back and forth with Karen Jonas, his fellow Parlor Soldier, on "Crazy," a track that appeared on his ill-fated male/female country duo's "When the Dust Settles" in 2011. It single-handedly proved that he's got the wherewithal and talent to take his brand of country-western music to the next level. That said, only about 80 percent of the 13 songs that appear here could ever even prove as much.
But, you see, that's the thing: The Parlor Soldiers worked so well because of how restrained and concentrated they were. Not even a sub-par production job could get in the way of how masterful their blend of bluegrass-leaning Southern acoustic rock was. And if these 13 songs are any indication of the direction this singer is heading, it might be a good idea for him to take a longer, more thorough look at where he's been. Because for all the prose and ambition this collection may offer, one thing remains true: You never want your definitive work to already be behind you when you still have so many years left to travel the booby-trapped roads that will forever lie between track 1 and track 13.
If nothing else, "Heart in a Mason Jar" proves that Alex Culbreth has a lot more driving left to do.
** 2 1/2 STARS OUT OF 4 **