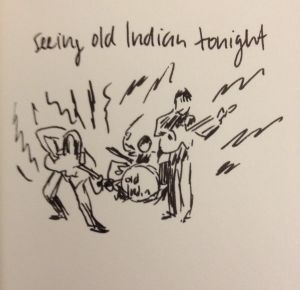 Holy cow, these guys are like a shot of adrenaline. At five songs combining for a run time just a tad shy of 25 minutes, Old Indian's self-titled release of demos is, in a word, breathless. It's a turned-up, fuzzed-out modern-day interpretation of the blues that feels as fresh as it does invigorated. The formula is far from original, of course, but rarely, if ever, has a locally bred band of players sounded so aggressive, so powerful or so dirty. If Jack White had a kid with The Black Keys, it would grow up to sound a lot like this, and there isn't a letter of that phrase that is overstated.
Better yet is the reality that the sounds all come from a trio: Cory Springirth on guitar and vocals, Mark Weeks on bass and Evan Owens on drums. No gimmicks here. No stripped down, bass-less duo set out to rule the world. No pretentious statements of grandeur that suggest these guys take themselves far too seriously. No need to use words such as "revivalists," "throwback" or "saviors." It's just three dudes wailing away at the type of traditional blues-leaning rock that turned The New Yardbirds into Led Zeppelin, a heated fury of sound that is both figuratively and literally impossible to ignore.
The best moments come from the best guitar riffs, naturally. "Mean Man" allows a Queens of the Stone Age lick to drive the vehicle through a joyride soaked in booze and breadth. The latter half of that equation comes to life as Owens launches into a steam-heavy drum solo that picks up the pace like the burning engine it is. Not to be outdone is Springirth's flaming-hot guitar that guides the performance into a double-time feel, spouting off solos like fireworks exploding through a midnight sky.
"Werewolf" takes the energy up to 12, not 11, as its formulaic verses allow the players to stretch out within the parameters of a power groove that came straight out of 1972. Of all the performances this too-short set offers, this is the one that's impossible to forget, in part because of the brilliantly constructed guitar pattern that is so accessible, you feel as though you've heard it before, be it during a car commercial or while tuning into a classic rock radio station.
Actually, what makes the track stand out so vividly is the same thing that makes a lot of the collection appear unexpectedly soulful: Springirth's distorted and indecipherable vocals. Sure, the trick might be overwrought in a different setting, but here it fits like a glove on the rock-solid fist these guys combine to form. Rather than detract from the overall listening experience, it gives the trio character, adding to the exciting and fearless atmosphere these songs so easily create. Sing-along choruses are replaced by catchy guitars, and emotional utterances give way to the force of nature born by the vigor the playing exudes. It's like listening to a hurricane while riding on top of a tornado.
Case in point: "Get It Together," while leaning on a ferocious boogie for half the performance, blows up (and blows up real good) in spurts that echo the bombast of QOTSA knock-off Them Crooked Vultures. Adding flavor to the track is its antagonistic approach, an always-moving-forward attitude that leaps from the headphones and straight to your soul. The song's lazy middle section makes for a glorious use of bent notes and undeniable pandemonium of the most affecting kind.
The only real thing this set lacks is a bigger production budget. Sure, Owens' drums hold steady, and yeah, we all can hear a vague reminiscence of Weeks' bass guitar, but the reality is that if the collection would have even the slightest bit of polish, there's no telling how high these guys could soar. These are songs written to be performed in front of throngs of sweaty, drunk people, anyway. Hearing the intricacies of that on record would have been — and could still be — revelatory.
No matter. Because if this is only the beginning of Old Indian's trek through the local music scene's woods, it's outright inspiring to think about all the things they might discover during their travels. Five songs aren't enough when you're this good and we all know that crafting an entrée as good as the appetizer is a difficult task, especially when that first course is so tasty. The people at the table are still hungry, though. And the anticipation for what might come out of the kitchen next is nearly impossible to bear.
*** 3 STARS OUT OF 4 ***