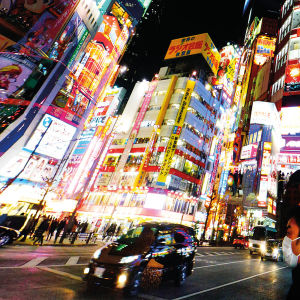 "I think we all mourn the fact that many people don't listen to full albums anymore," Drop Electric's drummer, Ramtin Arablouei, told the website D.C. Music Download a few months ago. "We love the idea of putting together albums like novels, movies, or any attempt at art."
And if there was really only a single paragraph you ever needed to know about the D.C. outfit's Lefse-debut set, "Waking Up to the Fire," that's the one. Listening to the collection is a cinematic experience drooling with science-fiction saliva most commonly hanging from the mouths of Sigur Ros. Taking any of the 11 tracks out of order isn't just a disservice to the music itself; it's also an act of self-sabotage, essentially killing all possibility that its digestive tract would run its course properly.
The ideas are grand, the execution beyond admirable. Compared with its previous releases, "Fire" is decidedly more accessible, yet the subtle changes ultimately end up enhancing the far-out listening experience. Sure, Kristina Reznikov's buoyantly moody vocals have never before been used as frequently as they are here, but never before has Drop Electric sounded this complete, either. Maturity is one word for as much, but it's also not the only one applicable.
Especially when the songs behind it all reach as far as they do. Case in point: The title track, which offers an irresistibly delicious keyboard hook that ends up running more loops than a high school track team on a spring afternoon. And at a concise three minutes, never does it feel as though the repetition comes even remotely close to overstaying its welcome. "Blue Dream" takes the same approach and replaces the source of redundancy with a killer vocal line impossible to forget.
The best moment comes in the form of "Carl Pagan." Skipping along with the help of an underestimated (see: infectious) groove, the production is both smart and sparse. Coupled with Reznikov's nearly indecipherable croons, its warm feel and straight-ahead structure proves to be a welcome departure from the grandiose nature of what often appears elsewhere on the record. "Lucille" plays on the same field, the bass and drums standing front and center along with eerie synths and that echoed voice, but it manages to twist the rules just enough to make sure it's still its own game.
Only when the group slightly overextends itself does the record suffer. "Higgs Boson," while endearingly lazy and electronically provocative, doesn't quite hit the level of post-rock, shoegaze-ish pretense it wants to perfect. Opener "Other Planets" could have benefited from another perspective and/or write-through — by the time it (finally) develops into its climax, a candy-coated hook ends up being not enough to prevent the initial stages of a cavity. Yes, the point is that it's supposed to be epically expansive, but when you use more than half the song's runtime to get to the starting point, it's tough to immediately want to take a bite of the sugary treat.
None of this means the tiny missteps aren't at least somewhat good-hearted. "Among Dying Dreams," the record's swan song, features a weirdly vague nod to a combination of the Postal Service's "Nothing Better" and "Sleeping In" with its similar keyboard harmonies and space-odyssey atmospherics. Not to be outdone is "Starfox," the fastest of the bunch that begs to be played in some underground Euro-pop-obsessed hipster haven. Contrasting nicely with the pace is Reznikov's pseudo-chant-style of vocals that lay a tasteful drawl on top of the strobe lights the rest of the track embodies.
Actually, contrast is a pretty good ideal for Drop Electric, and maybe even more so, "Waking Up to the Fire" as a whole. Vastly ambitious and wildly unpredictable, Arablouei clearly wasn't lying when he said they wanted to make a coherent piece of musical art when they put these 11 tracks together. The result is both courageous and promising, a lasting collection of high-level experiments that reach far beyond the mere parameters of pop and land somewhere near the colony of whatever corner of outer space this set is supposed to represent.
Or, in short, wake up to this and the entire notion of ever heading to bed seems outright boring.
** 2 1/2 STARS OUT OF 4 **