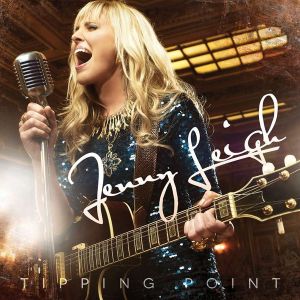 It's a purgatory, the space between pop music and country music. That abyss has only grown in breadth through the years as stars such as Taylor Swift and Garth Brooks have managed to level out that juxtaposition perfectly. Start with a lean toward the country music world, and you'll have fans that stick with you for decades, no matter how far you stray (how odd does the idea of Chris Gaines look now?). Flip the formula and watch as followers become more and more confused (i.e., what's that guy from Staind doing again?).
Baltimore's Jenny Leigh, a self-proclaimed "city girl with country roots," likes to frequent that playground on her latest five-song EP "Tipping Point" so much that the lines between the two classifications become blurry to the point of near nonexistence. Almost entirely overcome with pop sensibility, the set ranges from predictable to perfection so often that it leaves the listener no choice to label it as the guiltiest of addicting pleasures.
The catchiest of the bunch is opener "Refuse to Hide," which ultimately winds up being the Michelle Branch/Aaliyah collaboration of which the world was robbed. Easing into the track's body, it offers the plucking of a banjo in synch with the downbeat of a faux snare drum. Only when the track eventually opens up to a roaringly full chorus — complete with the remnants of a pedal steel — does the song even remotely call upon a country music radio station. You might not like it if your walls are cluttered with Miranda Lambert posters, but it's something unabashedly easy to warm up to if you're more of a Demi Lovato type.
That said, what makes "Tipping Point" so irresistible is the dichotomy displayed between its first and final tracks. "This Time," a tender, as-traditional-as-she-gets ballad, is begging to be played during a particularly emotional scene on ABC's "Nashville" (and surprise! Leigh's work has indeed already been featured on the series). Slide guitar slants through soft drums and sparse picking underneath a believably earnest Leigh, who proves she can stand among the most successful pop-country standouts in these 3:27 minutes alone.
Most surprising is "Safe with Me," a standard 6/8 blues with occasional splashes of Western flare that ends up being engulfed in more fire than you might expect. It's an interesting turn for an artist seemingly so married to accessibility. In a lesser singer's hands, the trick would appear to be a cheap way to appeal to the biker crowd, but Leigh makes the formula her own, taking that polish and turning it into a game of late-night pool at a bar more smokey than the whiskey being served in soon-to-be-broken shot glasses.
And then "Perfect Storm" and "Tennessee Whiskey & Me" round out the record in competent if not overly enthusiastic fashion. The former takes a page from the Book of Shawn Colvin and her "Sunny Came Home" days. Maybe the weakest of the bunch, it suffers from the singer's desire to push her vocals to a point that reaches further than they can go. The latter, meanwhile, is the requisite sassy, up-tempo bit that could use just a little more alcohol and a little less "me." Getting some dirt on those Wranglers never hurt anyone, and while Leigh doesn't sound entirely out of place, she could benefit from a few frays around the edges.
Still, you only get those battle scars through experience, and while Jenny Leigh already has a few other releases to her name, there's something uniquely promising about how long her future as a musician might be. She has the tools — sweet voice, good-girl looks, country roots — now it's just a matter of beefing up their box and getting the garage ready to endure the storms that always formulate over the head of any budding musical talent. "Tipping Point" makes the case for a strong foundation.
Yet the question is worth asking: Can it stay together long enough to prosper in purgatory? This set suggests a favorable forecast.
*** 3 STARS OUT OF 4 ***