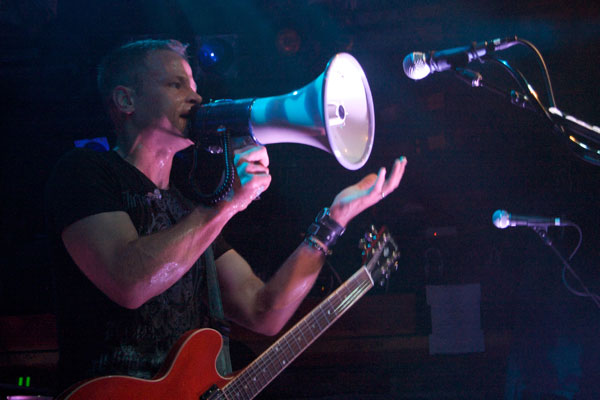 For The Record Podcast Episode 10 – Lloyd Dobler Effect
We celebrate a year of the For The Record podcast with our 10th episode featuring D.C.-area pop-rockers Lloyd Dobler Effect and their lead singer, Phil Kominski. I met Phil a couple years ago after I saw the band play in Charles Town, W.Va., of all places, and we immediately hit it off. He is without question one of the nicest, most talented people I've met since moving to the area, and when I first dreamed up the idea for this podcast a year ago, he was one of the first people who popped into my mind. Better yet, his band just released their latest record, "Rock N' Roll Gangstas," and in this episode, we take the opportunity to debut a few of the band's new tracks.
Among the things we discuss:
– What it's like to play a major label showcase and how unnatural it almost always feels.
– The connections the band has to everybody from Madonna to Prince.
– How aging has taken a toll on not only the group, but the group's schedule, as many of the guys in the band are in the midst of starting families or entire other careers.
– And, of course, what they plan on doing with this brand new record, how much they might tour, and what went into getting it all done and out the door.
These guys have flirted with the Big Time far more than anyone else I've met in this area (winning contests run by WHFS will do that for a band), so there's a ton of interesting stuff here to digest, in addition to the three new songs featured during the music breaks. If you're looking for more information on the band, or where you can buy their new album, check out http://www.lloyddoblereffect.com, friend them on Facebook at www.facebook.com/LloydDoblerEffect, follow them on Twitter @LDEband or head on over to their YouTube page, http://www.youtube.com/user/ldebruno. This one is definitely worth your time. Promise.
OTHER EPISODES:
Episode No. 9 – Chelsea McBee
Episode No. 8 – Heavy Lights
Episode No. 7 – Peter Goodwin
Episode No. 6 – The Artomatic Crew
Episode No. 5 – Silent Old Mtns.
Episode No. 4 – Elon Eisenberg
Episode No. 3 – Crystal Sands
Episode No. 2 – Doug Alan Wilcox
Episode No. 1 – Cassandra Mullinix